History of the Lafayette Chamber Singers
Awarded "Best Choir Lafayette 2022" by Greater Commerce Lafayette, the Lafayette Chamber Singers was organized in 1972 by Clayton Lein. It is a semiprofessional group that records and performs in Greater Lafayette and throughout central Indiana. The 18-member ensemble offers audiences music from a wide variety of traditions and a span of ten centuries, ranging from pieces long hidden in archives to unpublished contemporary works. 
The ensemble's musical blend and stylish performances, especially of music of the Renaissance and the twentieth century, set it apart from other musical experiences. 
Among the group's many musical credits are performances at the celebrated Unity Temple Concert Series in Chicago, participation in the prestigious Presenter Touring Program of the Indiana Arts Commission and a concert for the Indiana Chapter of the American Choral Directors' Association. The singers also have appeared with the Amernet String Quartet, the Indianapolis Philharmonic Orchestra, the Lafayette Symphony Orchestra, and in conjunction with Opera de Lafayette. 
The Lafayette Chamber Singers is a member organization of The Arts Federation of Tippecanoe County. 
Current Members and Board
Singers
Sopranos 
Rachael Geier
Lynn Griffin
Sharon McKnight
Amy Weaver
Altos 
Marlene Astle
Peg Black
Marilyn Leigh
Lisa Pantea 


Tenors  
Roger Wm. Bennett
Elliot Friedman
William McInerney
Frank Oreovicz
Basses 
John Duvall  
Chapman Flack
Matthew Lapcheska
Damon Lincourt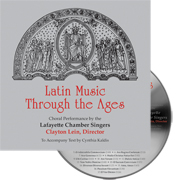 Latin Music Through the Ages
Lafayette Chamber Singers