Supporting the Choral Arts in Lafayette
Like most arts organizations, the Lafayette Chamber Singers each year will thank generous individual contributors for the largest portion of the income needed to sustain our mission. 
Please contact us for information or to make a contribution. 
Individual support 
We are grateful for support at any of these levels: 
Impresario ($1000 and more) 
Prima Donor ($500 to $999) 
Soloist ($250 to $499) 
Singer ($100 to $249) 
Caroler ($50 to $99) 
Friend (up to $49)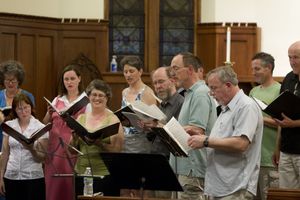 Gifts in honor or memory  
You may offer donations to the Lafayette Chamber Singers in memory of a loved one or in honor of a special friend, relative, or event. The Singers organization retains your designated gifts in a special fund and uses the monies to purchase new music or sponsor a concert.  
May we thank you?  
In appreciation for your generous support of the Lafayette Chamber Singers' 2019-2020 season, we offer you a special thanks. Contributors at the Soloist level and above will be invited to a Soirée with music and refreshments.  
Lafayette Chamber Singers, Inc., is a 501(c)(3) nonprofit arts organization, so contributors may enjoy a tax deduction to the extent the contribution exceeds the value of any premium received. 
We appreciate the support of your business  
Whether by advertising in our program or by sponsoring a concert or a season, your business can provide much-appreciated support to the Chamber Singers. Please contact us for sponsorship or advertising information.  
We can be supported through the Community Foundation  
Contributions to the Community Foundation of Greater Lafayette can be designated for the benefit of the Lafayette Chamber Singers. Such a contribution functions as an endowment, with a portion of its income each year available to cover the work of the Chamber Singers.